Handcrafted. Unique. Trendy.
Our handcrafted earrings and accessories are designed to inspire joy and confidence. We use leather, cork and metal in our designs and combine these materials to create our unique and trendy pieces.
Check Out These New Arrivals!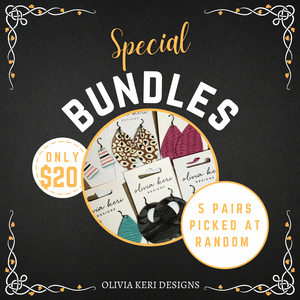 Mystery Mega Bundle
Grab a mystery bundle before they are gone! You get 5 pairs of earrings for only $20. That's only $4 a pair! Bundles are chosen at random, but don't worry, they are all super amazing!
Check it out!
MAKE A STATEMENT
Our double layer angel wing earrings are sure to turn heads! Perfect for music festivals, events or anytime you want to make a statement.

Saffiano Leather - beautiful and durable